Soulscape Sketch Reading for 20/03/17 – 27/03/17
For those interested. Here is the video of the sketch being done (I'll try and sort out a more interesting angle next time):

Soulscape Sketch Reading for 20/03/17 – 27/03/17
The overall theme of this reading: The knowledge and process of clarifying your wishes and sending them out to be fulfilled by the universe, is becoming more commonplace. It may soon lose its mystical nature entirely. However, after the initial novelty has worn off that it works, people may benefit from moving beyond using this technique as another way to complete a shopping list of wants, and consider the technique's application for higher ideals.
Those tools being used in divination and healing, should be considered your working partners and colleagues. Yes, they will work anyway, but thanks and acknowledgement of their equal hard work will make them happy and appreciated as being part of the team. It wasn't so long ago that the idea that all animals have their own personalities/souls while they're incarnated was considered wacky.
NB (05/04/17) After looking through my emails I found these links that may be useful with the ideas behind this reading. More information on developing a positive working relationship with crystals: http://thegoldenlightchannel.com/bonding-with-crystals-by-tim-whild/
Website of Tim Whild: http://timwhild.com/bonding-with-crystals/
Present Positive / Seen: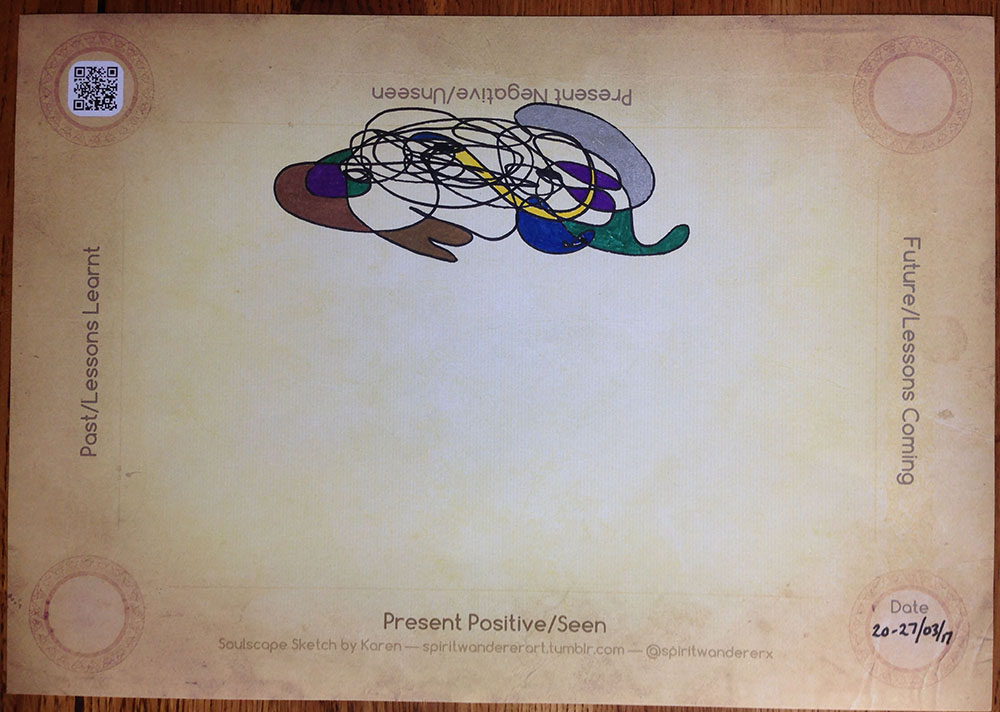 In this image I saw the picture of a demanding figure (with a masculine energy to me) on the left wearing a blue baseball cap (to me this symbol – a figure wearing a baseball cap – represents where the general base level of awareness of the general populace is). This figure has learned to clarify what they want and send out the clear intention to the universe (yellow beam from eyes). Because of this clear thought and intent, beings (figures on the right – such as a happy dog with blue body and purple ears) are only too happy to come and comply to the wants sent out.
However, this technique (that most are now able to understand the concept of and able to use successfully) is being used in the same manner as if someone was to be shopping in a supermarket. (The figure on the left has a purple and green shopping bag for the 'goods' that they 'ordered').
There are two over souls, made up of these figures (on the left who looks like a frog with a green and purple ear, and on the right with grey hair). These over souls are monitoring and accessing this exchange from an emotionally impartial distance.
While this technique is becoming common place and no longer a mystery, the next stage (once people are bored of the practice and implementation stage) is for it to be considered whether the stuff desired is of long term benefit to all, not just for short term gratification of a single person and how the intent has been sent. Has it been sent with love and gratitude, or just as a demand?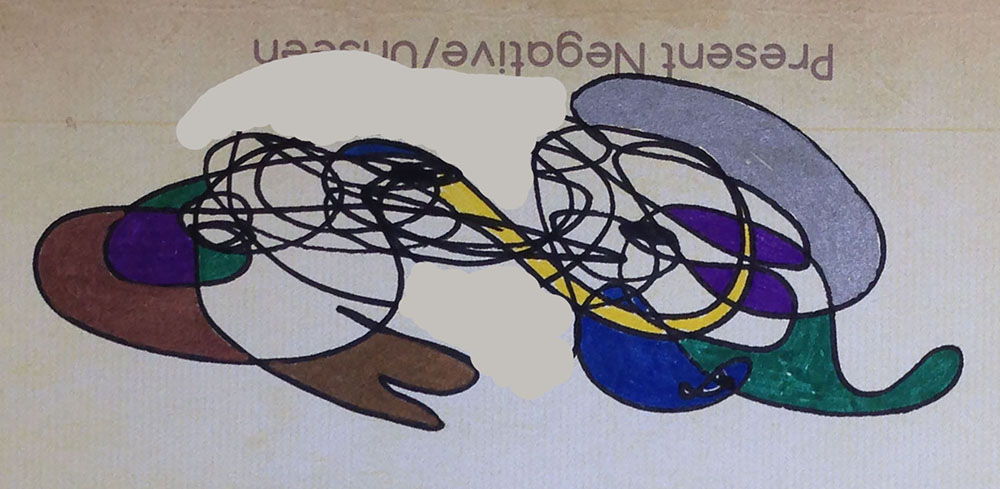 Present Negative / Unseen: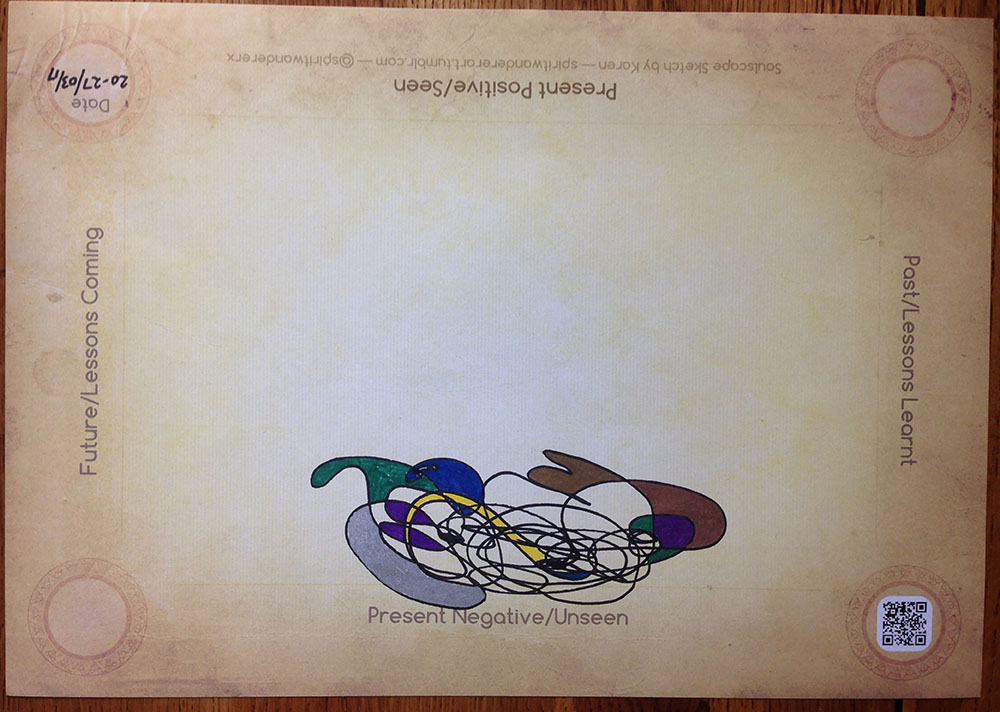 In this image I saw the picture of a person from this dimension/realm (on the right in a purple and green top) exploring into another dimension through a permanent hole that has opened up between the dimensions/realms.
They have sent in a spirit dog as a search scout to follow the scent of a path. In preparation for this contact the beings in the dimension/realm being investigated have a spirit sculpture on the path ready for the dog to encounter and interact with. This sculpture also serves to delay contact with going through to another dimension/realm until contact is made directly and properly rather than through spirit puppets and sculptures.
Tentative contact is being made, but it's being made using spirit objects as surrogates, rather than directly.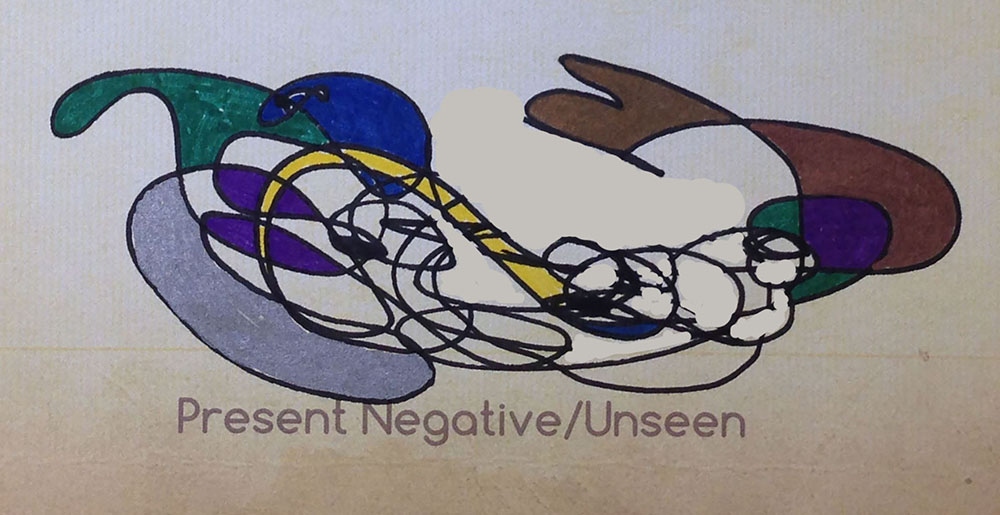 Past / Lessons Learnt: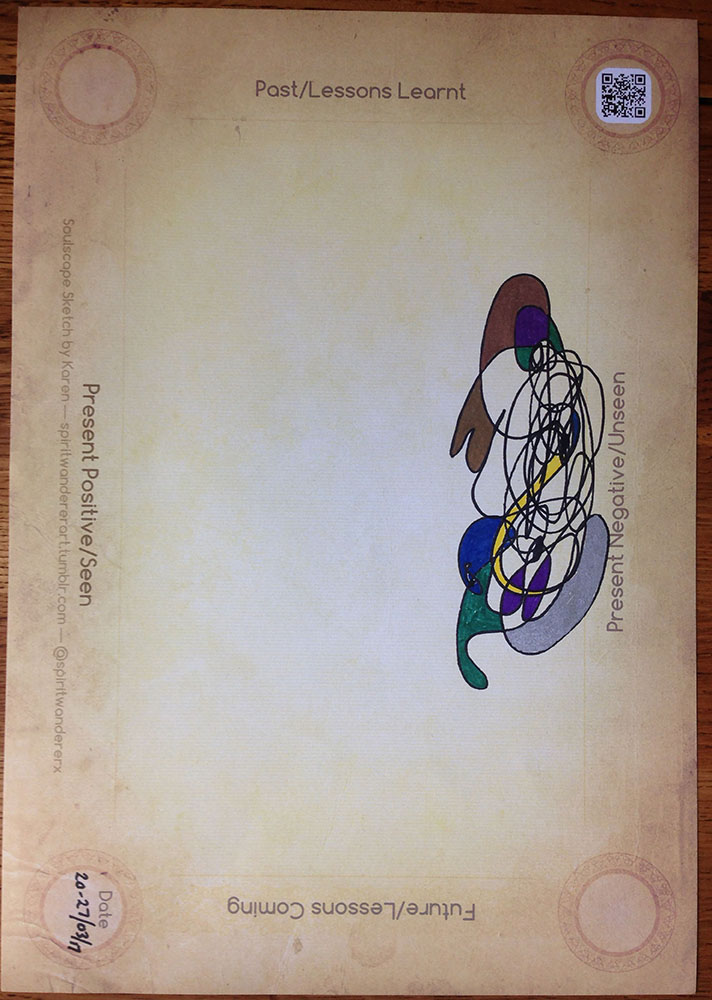 In this image I saw the picture of a limited minded figure being taken on a journey by a spirit frog headed creature. This frog headed creature had been tasked with taking the brown haired figure on a journey, that the brown headed figure didn't realise they are being taken on. The brown headed figure was neither aware that they were on a vehicle, or that it had a driver (that they were not even aware existed). The brown headed figure was looking backwards, but lacked eyes to see what was happening around them. They were content with seemingly (to them) sitting still on a rock. However, they were going on a journey whether they wanted to or not.
Travel and transport animal guides were working as agreed to take people on necessary journeys, regardless of whether they were known about or not. At the time the concept of the necessities of going on a journey was not apparent to the unaware travellers.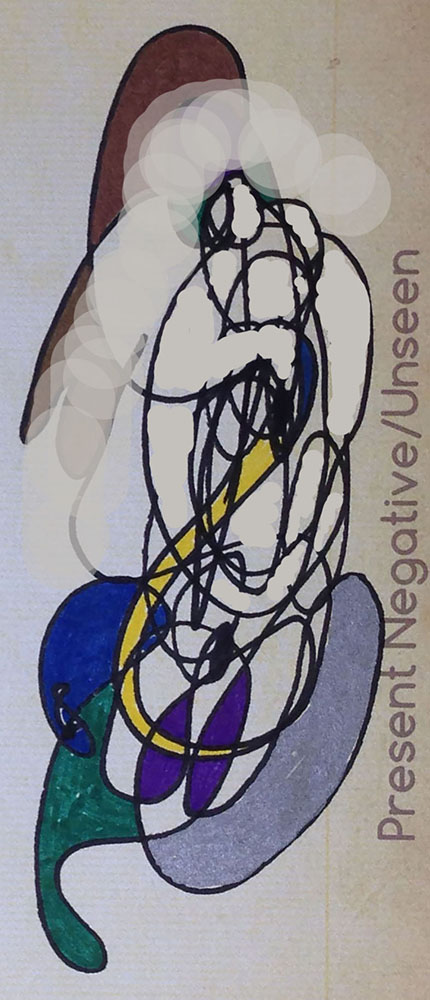 Future / Lessons Coming: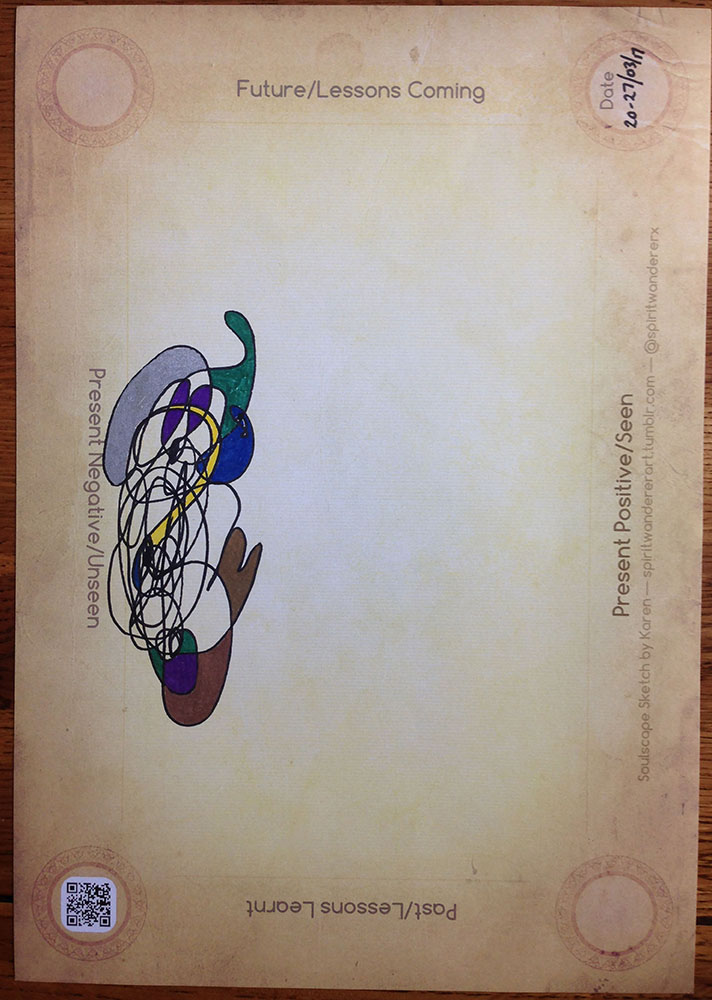 In this image I saw the picture of a spiritually clued up feminine energy. She is beautiful, elegant and stylish. This figure is now fully clued up and prepared for the journey (she is wearing a blue travel pillow). The path needed to be taken is being internalized – yellow snake with blue head – (I also saw this as a kundalini snake coming down from the head/third eye to connect with the base chakra). They have left one dimension/realm and are travelling to another. To help them navigate correctly they are using a divination tool.
However, it does not appear to be acknowledged by the figure that the divination tool being used, has its own personality. It is not just an accessory/object, but a necessary partner in the journey. By the look on its face it is being relied upon but not treated like an equal as it expected. I heard the term "as happy as an untipped waiter". While God, or the divine hive mind, is part of everything, even objects like to be thanked and acknowledged as providing a service/considered an equal partner in life's journey.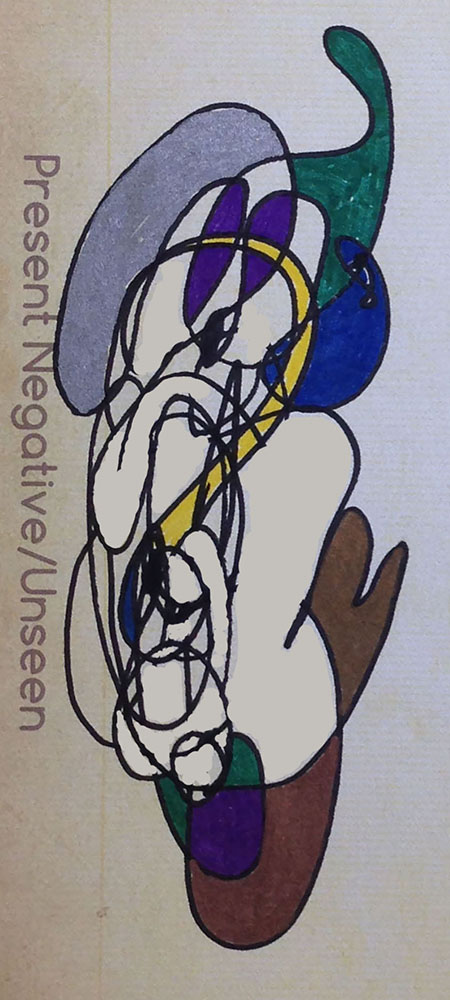 https://en.wikipedia.org/wiki/Pantheism
Liked this reading? Have you checked out KaKe Readings yet?
https://www.facebook.com/KaKeReadings